About Nusid Clean Tech
Our enterprise was incorporated with an aim to meet the filtration, vacuum, other housekeeping and pollution control demands of clients in an environment friendly manner. Our Housekeeping & Pollution control Solutions are engineered with a focus on quality, design accuracy and flawlessness. It is the goal of our company to install our premium range of Heavy Duty Industrial Vacuum Cleaner, Fume Extraction System, Road Sweeper Machine, Dust Collector,
Mechanical Bag Filtration Systems, etc., all across the country. All of these systems are carefully engineered while making use of defect free components and parts. Under the brand name 'NUSID', we offer each of these systems to clients in exchange of reasonable rates. Since day one of our operational journey, we have focused on meeting the exact design, mechanical and quality requirements of our clients. This is why, we customize each of our engineered systems on the requests of clients. Assuring a perfect customization of all the items, we satisfy our clients to the fullest and earn their complete trust. Our goal is to keep working as a responsible manufacturer of the country and become the favorite choice of clients.
Furthermore, our company also pleases customers by rendering premium grade Cleaning Machines Repair Services and many more as a responsible service provider. Each service is executed with perfection with an aim to provide best results to clients at all times.
Where NUSID Can Help?
Our 'Made In India' range is appreciated nationwide for its wide usage across diverse application areas. The range that we, Nusid Clean Tech, offer is famously used in the production of varied:
Dust collector for different types of application.

Automatic plasma cutting table with filtration unit.

Portable Fume Extraction system for different types of application.

Wet Scrubber.

Multi Cyclone dust collector.

Heavy duty vacuum cleaners.

Road sweeper.

Scrubbing machine.

MIST collector


Our Quality Policy
Quality is the prime focus of our prestigious company. Always, we strive to produce and deliver the most reliable and durable Heavy Duty Industrial Vacuum Cleaner,
Fume Extraction System,
Dust Collector, Road Sweeper Machine,
etc. to our clients. Nothing less than perfect is dispatched from our infrastructure facility. To assure dispatch of only flawless items, we follow stringent quality policies that are drafted and implemented by experienced professionals of our company. We never back down on our promises of delivering standardized quality solutions to clients. For this, we conduct very strict quality tests on our array prior to its dispatch from facility. Several tests are carried out as per industrial guidelines, each of the tests helping us in assuring our range's perfection.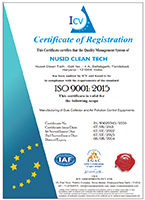 Read More